Posts Tagged 'sarah palin book'
» posted on Tuesday, February 28th, 2012 at 12:42 pm by admin
---
Sarah Palin, her mouth created more unnecessary Republican jokes, wonderful funny political quotes and unintended political comedy. A haiku not in the book, PALIN PEARLS: Political Haikus 2008-2011.
Many jokes of her –
Oh simple Sarah Palin,
Never fully served.
And so was born my book: PALIN PEARLS: Political Haikus 2008-2011. Filled with funny political quotes and mocking the political comedy of that era.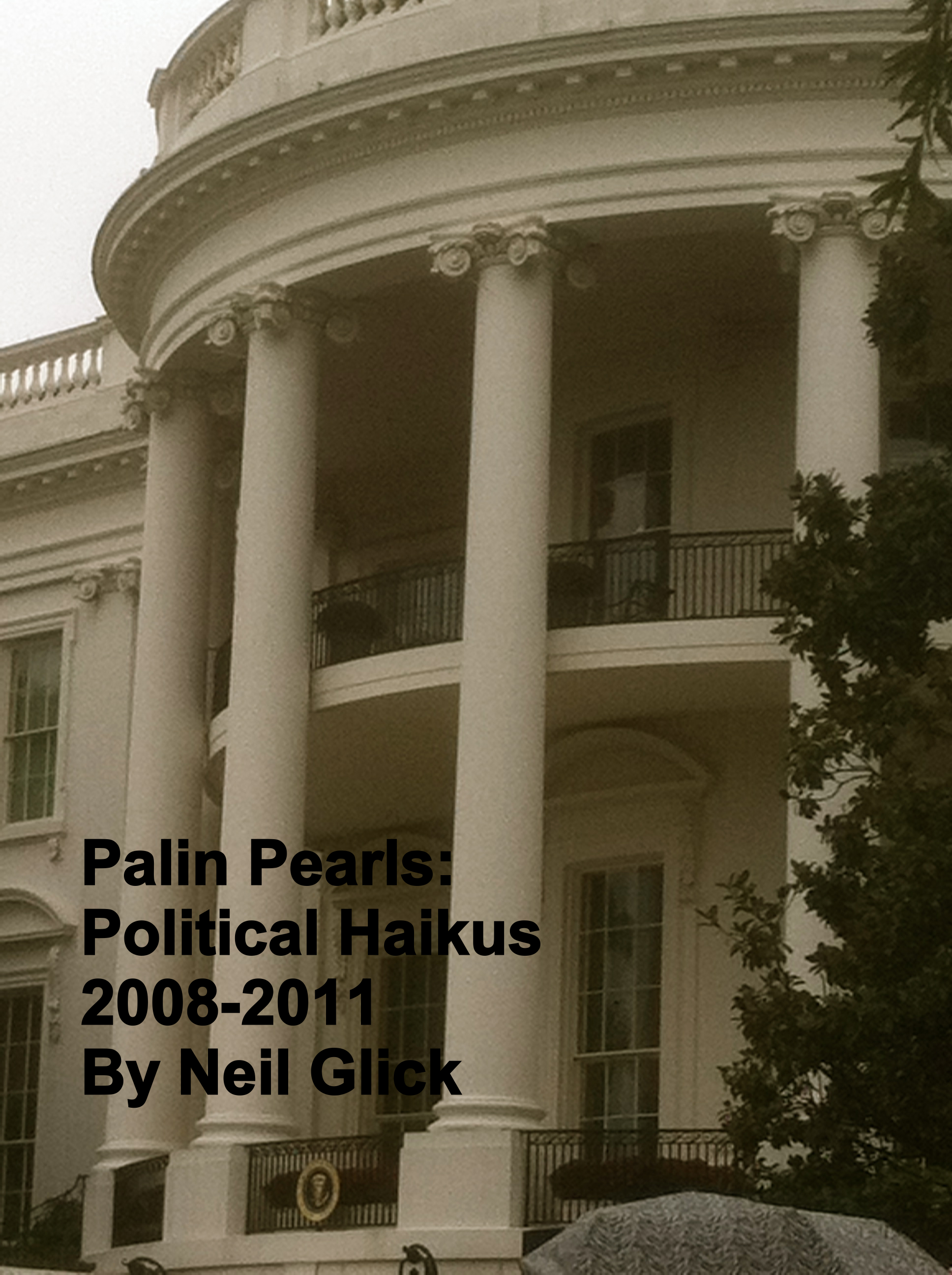 PALIN PEARLS: Political Haikus 2008-2011
» posted on Monday, February 27th, 2012 at 9:39 pm by admin
---
Palin Quotes or Jokes? Republican Jokes? Really here are some funny political quotes said by our dear Sarah Palin. Thank you Sarah, for creating a new level of political comedy.
Can you believe she said all this and more? If you don't understand some of them, well, neither did Sarah Palin.
10. "He who warned, uh, the British that they weren't gonna be takin' away our arms, uh, by ringing those bells, and um, makin' sure as he's riding his horse through town to send those warning shots and bells that we were going to be sure and we were going to be free, and we were going to be armed." –Sarah Palin, on Paul Revere's midnight ride, June 3, 2011
9. "I love that smell of the emissions!" — Washington, D.C. May 29, 2011
8. "But obviously, we've got to stand with our North Korean allies." — Glenn Beck's radio show, Nov. 24, 2010
7. "How sad that Washington and the media will never understand; it's about country. And though it's honorable for countless others to leave their positions for a higher calling and without finishing a term, of course we know by now, for some reason a different standard applies for the decisions I make." — July 4, 2009
6. "It may be tempting and more comfortable to just keep your head down, plod along, and appease those who demand: 'Sit down and shut up,' but that's the worthless, easy path; that's a quitter's way out." — Announcing her resignation as governor, July 3, 2009
5. "Only dead fish go with the flow." –The day she quit as Alaska Governor, July 3, 2009
4. "I like being here because it seems like here and in our last rally too — other parts around this great Northwest — here in New Hampshire you just get it." –New Hampshire, Oct. 15, 2008
3. "They are also building schools for the Afghan children so that there is hope and opportunity in our neighboring country of Afghanistan." — San Francisco, Oct. 5, 2008
2. "As for that VP talk all the time, I'll tell you, I still can't answer that question until somebody answers for me what is it exactly that the VP does every day?" — CNBC July 2008
1. "Polls are for strippers and cross-country skiers" – Iowa Tea Party rally  Sept. 3, 2011
Truly she was the Republican joke of 2008. She brought a frightening level of political comedy to the American stage. And this is the tip of the Alaska iceberg for so many Sarah Palin Quotes. You can read haikus inspired by her run and life in the book: Palin Pearls: Political Haikus 2008-2011.